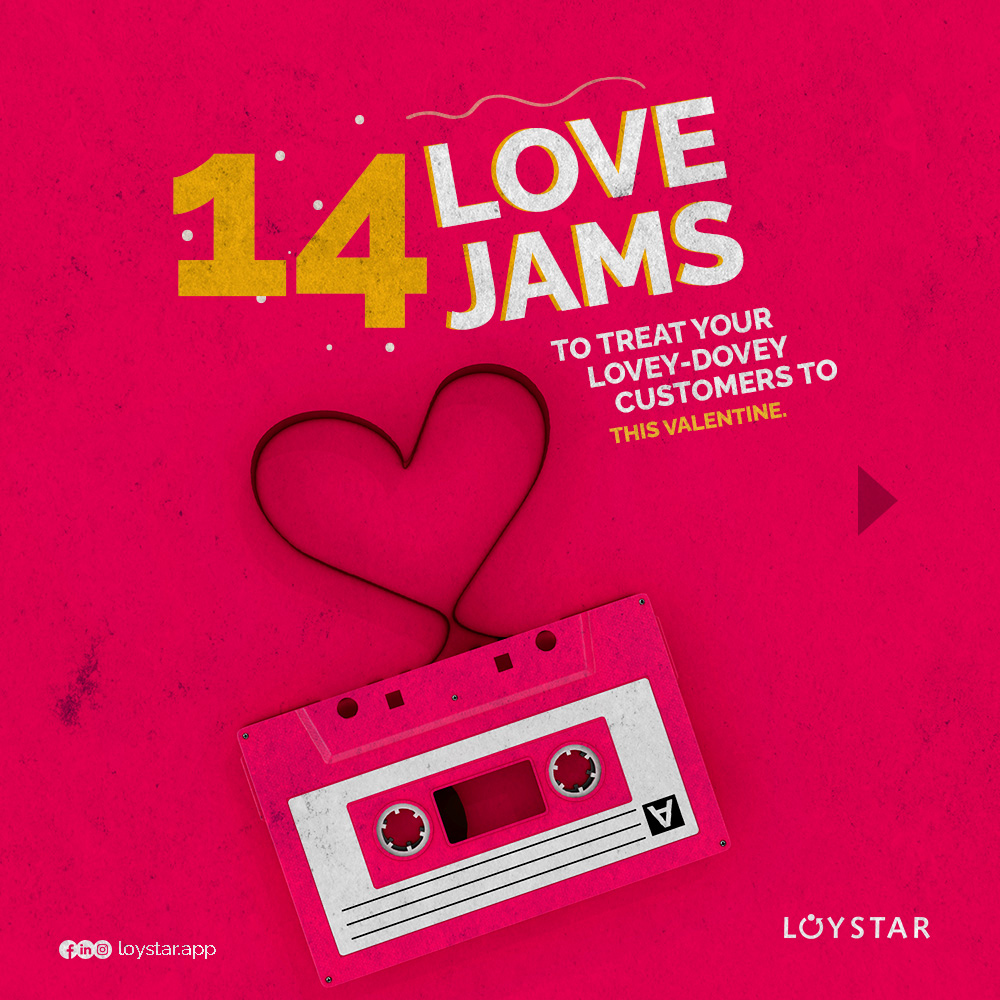 With just a few days left till valentine, you probably are at the peak of building momentum for your promotions towards the D-Day—sending emails, SMS, posting on Facebook, Instagram and every other channel you have available.~
That's good!
If you did not plan any deal whatsoever for your customers, you may want to have a look here for inspiration to see what you can cook up this last minute.
Having done all to spread the word about your offer, and are confident a ton of people would show up. What about you step up your customer experience with some music. You would want to be strategic about this because you actually can influence how much money your customers spend by the kind of vibe you create through the music you play.
So to help you in delivering a pleasant customer experience to your customers, we made a playlist of 14 timeless love jams to treat your customers to this valentine. This list is biased to restaurants and cafe type businesses, obviously because a major highlight of Valentine day is usually a dinner or some party with lots of eatables. Nonetheless, If you own a gifts shop or a fashion retail store, you can also get your customers to stay longer, by choosing the right tunes for your ambience. That increases the chance that they find something else they would like to pick.
As a restaurant or shop manager, you should know the class of people that patronize your restaurant, and that should inform what goes on your playlist, but for generation x and early generation y, we curated  familiar tunes and this class of people can almost sing along to the tracks below:
1. Endless Love by Lionel Richie and Diana Ross
What is a curation of love tracks without Lionel's Endless Love. First recorded in 1981, this all time classic is a popular tune and is one of the greatest love songs ever written. Just as much as we love the original version, we love Luther Vandross & Mariah Carey's.
2. Nat King Cole – L-O-V-E
For a bit of smooth jazz,  you can't be wrong with Nat King Cole's L-O-V-E.
3. Ain't nobody – Chaka khan
4. Michael Buble – Can't Help Falling In Love
5. My Girl – The Temptations
This is a throwback to the 60's proper and just in case your place has got a karaoke setup. My girl, by the temptations is quite perfect for that dude who doesn't mind 3 minutes of fame to show off his girl.
6. Lionel Richie – You are the Sun
Our expert in writing love songs. Here's another from Lionel Richie, a little fast beat, but when on 36% volume level, this tune goes well with the sounds of cutleries hitting ceramics plates.
7. I wanna grow old with you – West Life
I bet you would still find some Westlife fans around. This one is for them.
8. Valentine – Jim Brickman & Martina
Don't mind a Valentine themed song? Here you go.
9. Bob Marley – Is this Love
For a bar esque restaurant, with outdoor seating by the streets, this Bob Marley's love song is sure to excite your customers and get more customers to join in on the jive.
10. KC and Jojo – All my Life
11. Sade – By Your Side
12. Stuck on you – Lionel Richie
We can't help it, dude is good.

13. Just The Two of Us – Grover Washington Jr.
14. I Wanna Dance With Somebody – Whitney Houston
A bit of dance and then we go home.

There is more to this list and you probably have a playlist completely different from the one we've curated. What we'd actually like you to do is give some thought to enhancing your customer experience using music.
Meanwhile, enjoy our non-stop playlist of all 14 tracks on youtube or spotify.
What additional songs would you like to see on the playlist, leave us a comment and we would likely add it.
About Loystar
Loystar is customer loyalty and retail platform that connects customers with small retail merchants and drive repeat sales in their business. You can learn more about our products here